Your browser is out of date and will not be compatible with our website.
Please download one of the following browsers to be able to easily view our website.
Our Summer Footwear Guide
As the warmer weather approaches and the prospect of summer vacations, picnics in the park and sun-soaked trips to the beach is on the horizon, it's time to start thinking about your summer footwear. And while sneakers can be useful for the more practical of expeditions, sandals and flip flops are firm favorites in our summer shoe closets.
Airy, lightweight and yet surprisingly supportive, sandals and flip flops are the perfect footwear choice for pretty much every summer activity, from walks with the dog to wedding guest attire. Our summer footwear guide is a celebration of all things sandals and flip flops – for both the male and female sandal-lovers out there. Whether you're exploring new styles or wondering how to wear them, we've got you covered.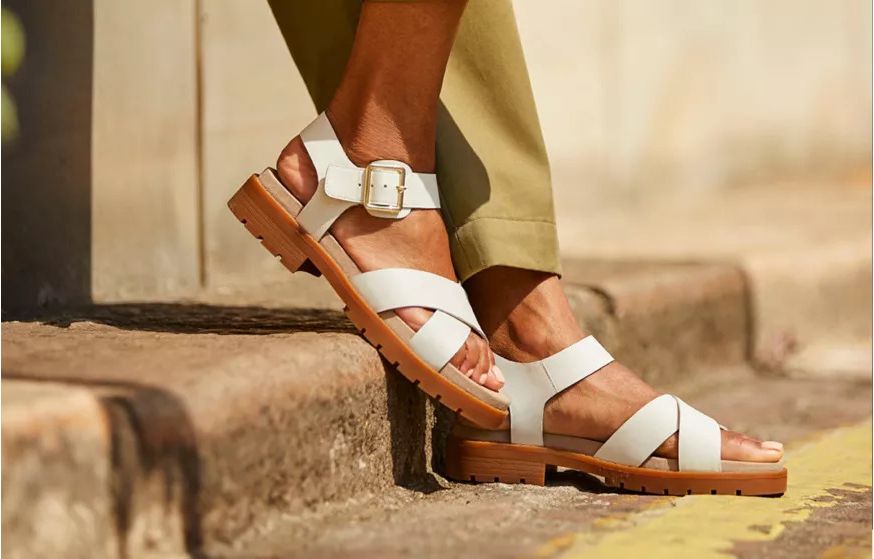 Women's sandal styles
Stylish, comfortable and versatile, the sandal is the true staple of a summer shoe. And with so many options to choose from – whether you're a fan of wedges or prefer the classic look – there's a sandal design for every preference and every occasion.
Most sandals are also incredibly practical and supportive, meaning it's possible to wear them on hikes and long walks if you'd prefer your feet to have a little more breathing space. Here are just some of our favorite styles and how to wear them.
Women's wedge sandals
If you love how heels help to elongate the look of your legs but aren't fully comfortable wearing them, then women's wedge sandals can be a brilliant alternative. Wedge sandals usually have a distinct shape, with the wedge element consisting of one piece which is joined from the heel to the sole. The wedge heel is often made from wood, acrylic or cork, giving wedge sandals a cool, beachy vibe.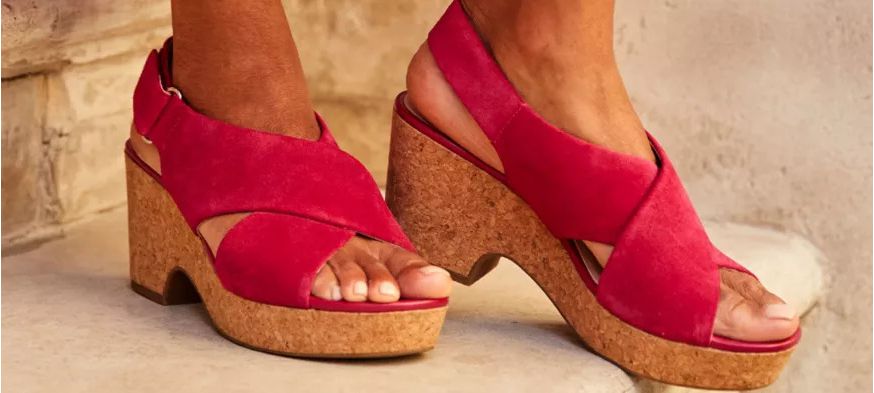 How to style wedge sandals
Wear casual wedge sandals with a floaty summer dress for a beach trip or picnic, and accessorize with a matching straw hat and bag to complete the ensemble.
Women's flat sandals
Introducing: the most practical (yet stylish) women's summer shoe you will ever encounter. There's a reason why women's flat sandals are so popular; not only are they supportive and easy to wear, but their versatility means that there truly is a design for every outfit.
How to style flat sandals
The way you style your flat sandals depends on the type of sandal you're wearing and what you plan on getting up to. If you're heading on a walk, flat sandals with a strap around the back will help to support your feet, while leather sandals are good for everyday wear. If you're bringing your sandals to a special occasion like a wedding, choose a pair with thin straps and delicate buckles to complement a pretty dress.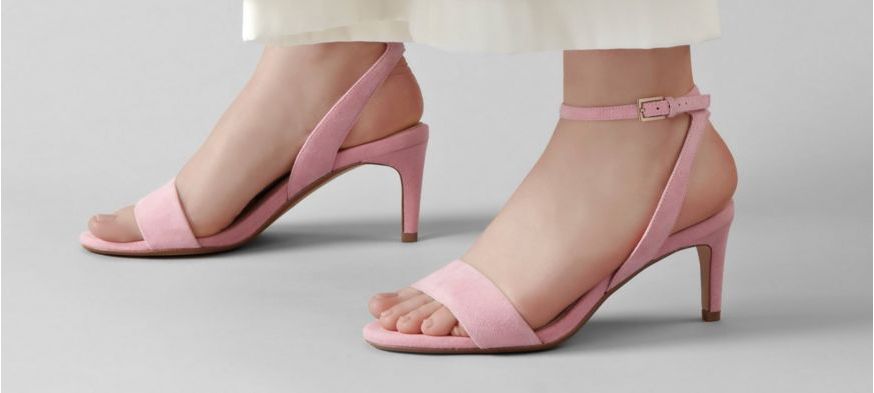 Women's heeled sandals
If you're off to an extra special occasion, a heeled sandal makes for a great footwear option. Heeled sandals come in a range of designs and heel heights, so even the less experienced heel-wearers can get onboard. For even more support, choose a pair with straps around your ankles or the backs of your heels.
How to style heeled sandals
Heading to a wedding? Wear your heeled sandals with a stylish wrap dress, or pair with smart trousers and a feminine blouse. You can also wear your heeled sandals to work with a two-piece skirt suit if your job calls for formalwear.
Women's mules 
Mules have no back or fastening around the heel, making them super easy to slip on as you leave the house. While some people class them as their own type of shoe in themselves, they actually fall into the sandals category. You can find mules in heeled and non-heeled options, in a range of colors and materials to suit your personal tastes.
How to style mules
Smart and sophisticated, mules are often the shoe of choice for work events, parties and formal meals. They're a super versatile style, meaning you can wear them with just about whatever you want, from mom jeans and a casual tee to a smart A-line skirt and blazer combo.
Women's chunky sandals
The hottest shoe trend isn't going anywhere this year, and chunky sandals still continue to be a feature in most closets. Like wedges, chunky sandals have a thick sole, however they're usually made from rubber with pronounced grips.
How to style chunky sandals
This versatile shoe looks just as great with jean shorts and a sweater as it does with a feminine summers dress. Wear chunky sandals to picnics, beach trips and city vacations to score instant style points.
Men's sandal styles 
Just like sneakers, men's sandals are brilliantly gender neutral and can make an awesome addition to any summer outfit. They're great for wearing on the beach and since they're nice and supportive, you can easily wear them on a walk, too. Besides, their versatility means they can be paired with just about every look.
Men's flat sandals
Comfortable and practical yet totally stylish, men's flat sandals are an essential summer shoe. If you're off on an adventure, choose a closed-toe sandal for a little extra protection, while open-toe sandals are perfect for days lounging round the pool.
Men's chunky sandals
Embrace the chunky shoe trend and choose sandals with a chunky, textured sole. Both practical and stylish, these sandals make the perfect addition to any outfit.
How to style men's sandals
How you style your sandals really depends on where you're going and what you're doing. On a summer vacation, men's sandals work well with jean shorts and an open, button-down shirt for a casual vibe. Wear them with chinos and a sweater in the chillier evenings or slip them on with a pair of swim shorts if you're heading to the pool.
Socks and sandals may be a controversial topic, but with style mags like Vogue giving their seal of approval, we'd take the "why not?" approach.
Men's and women's flip flop styles 
Flip flops fall into the category of sandals, with their standout feature being the Y-shaped strap that sits in between your big and second toe. Since they're so easy to slip on and off, they're an absolute vacation essential for people of all genders. Whether you're wearing shorts, swimwear or a summers dress, flip flops are a stylish and easy shoe choice in the warmer months.
Canvas flip flops
Comfortable and soft, canvas flip flops aren't quite as water resistant as rubber flip flops, so they're more suited to barbecues than they are beaches. Men should pair these with chino shorts and a polo shirt for a preppy and sophisticated look, while women can team theirs with a casual dress and beach bag.
Stylish flip flops
While flip flops are known for their relaxed look, you can also find stylish designs that are perfect for summertime meals out with friends. To up the sophistication, choose flip flops in silvers or golds with delicate buckles.
How should sandals and flip flops fit?
When trying on a new pair of sandals, the most important thing to look out for is whether your feet fit comfortably in the soles of the shoes. If your heel sticks out from the back then the sandals are likely to be too small, while shoes that are too big may slip and slide as you walk. Pay attention also to the feeling of the straps (if there are any). They shouldn't be cutting into the backs of your heels, nor should they feel too loose.
Complete your summer shoe collection with our men's flip flops and women's flip flops, which are available in a range of stylish designs and colors.