Your browser is out of date and will not be compatible with our website.
Please download one of the following browsers to be able to easily view our website.
How to choose comfortable shoes for the office
Finding the perfect pair of office shoes is essential, whether you're on your feet all day or seated behind a desk. Not only should they look smart and adhere to your work's dress code, but they should also be comfortable enough to wear all day.
Searching for the perfect pair of office shoes? Our handy guide explains what you should consider before making a purchase. We'll also share style tips to get you inspired!
What should I consider when buying work shoes?
From style to fit, there's plenty to think about when buying work shoes. Here are some key things to consider: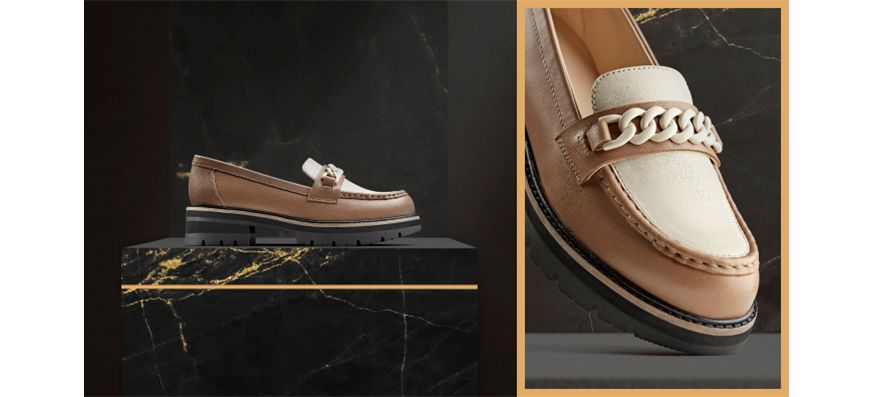 Comfort – which shoe styles can you comfortably wear all day?
When shoe shopping for work, people often think about the style of their shoes and forget about comfort. While it's important for shoes to look the part, the reality is you'll be wearing them all day, so comfort is key!
Ill-fitting shoes can cause blisters and discomfort, which will soon become a distraction. Make sure you choose a pair that fits, and look out for these comfortable features:
Arch support

Cushioned sole

Lightweight and breathable

Wide fit (if you have wide feet)

Supportive straps
A pair of dainty high heels might look the part – but if you feel uncomfortable wearing them, there are plenty of other smart options, including platform and flat shoes.
Style – what shoes are appropriate for the office?
Many shoe styles work well in an office environment, from brogues to loafers, boots to ballet pumps. Finding the right style for you depends on personal preference and your job's dress code. The more relaxed the dress code, the more fun you can have!
For formal work environments, heels, mules or loafers are your best option. They look great with formal trousers, dresses and skirts, offering plenty of variety with your outfits. Choose a pair in black or brown for maximum wearability.
If your office has a more relaxed dress code, get creative with new and exciting styles. Switch up your look between heels, platforms, wedges, sandals and knee-high boots – always keep your co-workers guessing! Designed for athleisure, sneakers are some of the most comfortable office shoes. Many offices won't have an issue with you wearing sneakers to work, providing they're clean and look presentable.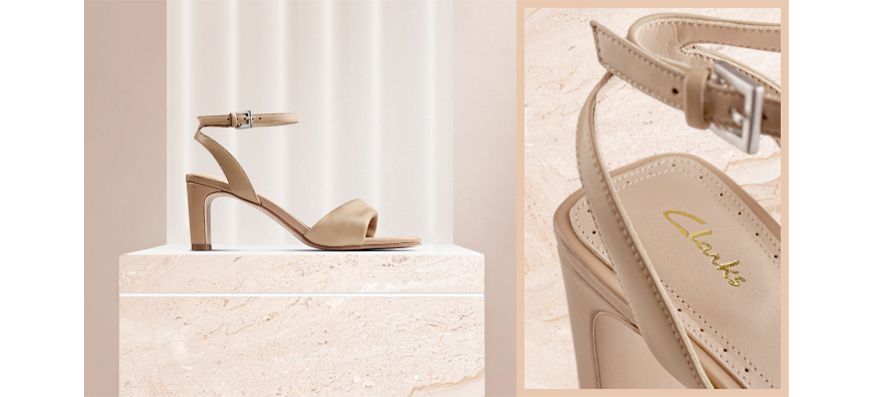 Comfortable and trendy work shoes for women
Now you know which shoe styles you can wear to the office, it's time to get inspired! Here is our pick of the top comfortable and trendy work shoes for women.
Flats
Flat shoes are many people's saving grace for a nine-to-five office job, particularly if you're on your feet all day. There are many styles of flats, including court shoes and ballet pumps.
If you're looking for a formal office shoe that'll go with anything, choose the Pure Belle or Sarafyna Sky flats in black leather. Alternatively, the Rena Hop metallic ballet flats are a great choice for offices with more leeway on the dress code. Metallic is also one of the top color trends for this spring!
Heels
Heels come in many shapes and forms, from high to low, block to stiletto. If you're new to wearing heels but want to make the right impression at work, the key is to start low and work your way up. There's a knack to walking in heels, so it's better to start in a lower pair!
In formal office environments, our Ambyr Shine or Freva85 Bar heels will look fabulous with a dress or power suit. If you'd prefer a lower heel, the Linnae Walk is a popular choice. In offices that allow for a little more expression, the Desirae Palm heels in bronze metallic are a fantastic option.
Mules
These slip-on shoes are some of the most comfortable to wear to the office. At Clarks, we have plenty of mule styles to choose from.
For smart-casual workwear styling, the Talene Pace is a standout option, with a subtle checked design and soft, stretchy inserts. Alternatively, the Trek Mule is a great relaxed style, while the leather Emily Cove heels are ideal for formal environments.
Loafers
Loafers are the perfect comfortable office shoe and come in various colors and designs. Our Sarafyna Iris loafers are a popular choice for formal dress codes, with their classic design and buttery leather silhouette. Or add a powerful masculine edge to your workwear with the Calla Ease, featuring a chunky lug sole and suede uppers.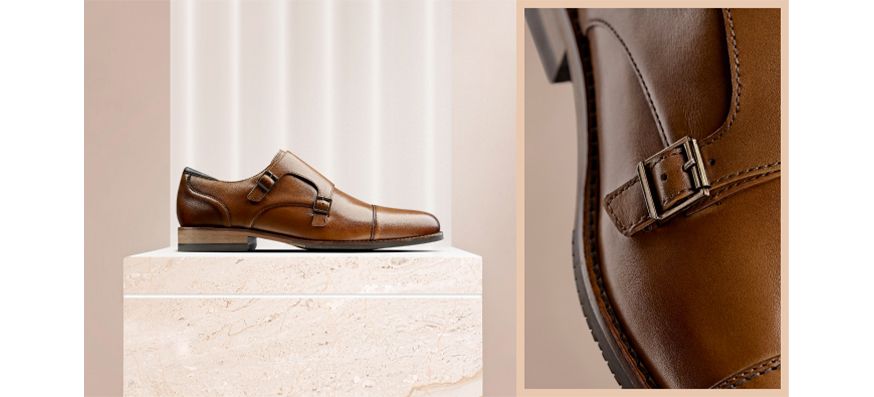 Comfortable and trendy work shoes for men
Clarks offers a range of comfortable yet trendy work shoes for men. Here are some of our favorite styles.
Brogues
Brogues are a staple piece of footwear that are always in fashion. Many of our styles are inspired by this classic design, including the Malwood Lace, the Whiddon Cap and the Un Hugh Cap. Featuring durable leather uppers and smart silhouettes, they're the perfect choice for your office attire.
Loafers
Loafers are easy to slip on and off, making them ideal for the worker who's always in a rush. We have a selection of designs suitable for all environments, including the smart Wave 2.0 Edge loafers and Gorwin Step loafers, and the more casual Court Lite Wally style.
Desert boots
Desert boots are an excellent office footwear choice for the colder winter months. The classic 1950s design with the distinctive crepe sole and unique silhouette is loved by many. Our iconic styles include the Desert Boot, Desert Coal, Desert Rock and Desert Cup. All come in a selection of colors ranging from black and brown (for formal environments) to mint green and camouflage.
Wallabees
Sophisticated and timeless, our men's Wallabees make the perfect office shoe. Featuring sleek, suede uppers in a variety of colors, there's something for every environment. Keep things smart and simple with our classic Wallabee Boot, or stand out from the crowd with the Wallabee Cup Boot in nubuck. The WallabeeEVO BT will help you create a bold look for summer, while the Weaver GORE-TEX Wallabee is fresh and rugged – perfect for a casual work setting.
Finding comfortable shoes for work has never been easier with Clarks. Shop our men's shoes and women's shoes today.