Your browser is out of date and will not be compatible with our website.
Please download one of the following browsers to be able to easily view our website.
Clarks' Holiday Gift Guide
The holiday season is upon us, and between baking cookies and decorating the tree, it's time to start thinking about gifts! From partners and kids to parents and grandparents, there's always someone to buy for – so it pays to be prepared.
Clarks' holiday gift guide will help you get inspired for this year's Christmas shopping. We've got ideas for all tastes, ages, and budgets, helping you find the perfect treats for your loved ones. Ready to get shopping?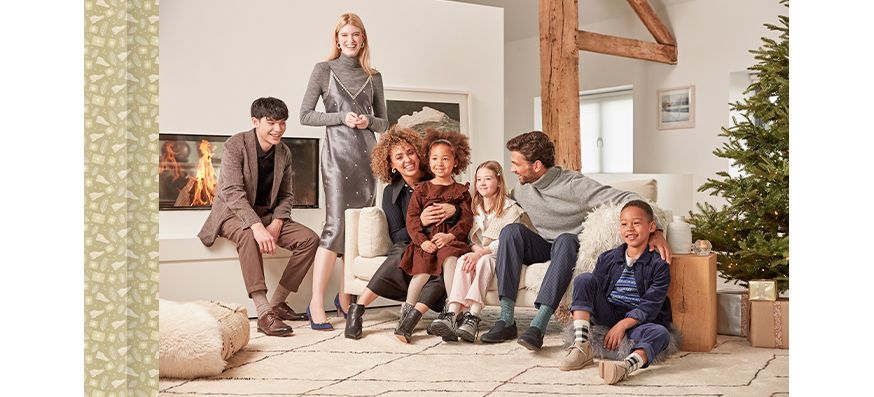 Christmas gift ideas for women
From warm winter boots to holiday party shoes, we've got you covered with the best holiday gift ideas for her.
A cozy pair of boots
A classic winter shoe, boots make for a perfect Christmas gift. The great thing about boots is that they never go out of fashion, and since they're so long-lasting, you can wear them for years to come.
At Clarks, we have lots of women's holiday booties and stylish day-to-day boots to choose from. Shop various materials, including suede and leather, in plenty of colors and designs. All our boots are made with both style and durability in mind, so you don't have to compromise.
Treat the woman in your life to a pair of ankle boots, possibly the most versatile style around. Or, stay extra cozy with a pair of mid-calf or knee-high boots, perfect for popping over a pair of leggings.
Comfortable shoes to treat her feet
Nothing says 'I care about you' more than treating your loved one to some comfort – so why not get her a pair of comfortable shoes? There are plenty of options to choose from to suit all styles, from sneakers to loafers and slip-ons.
At Clarks, style and comfort are equally important. Perfect for lounging around the house, running errands or popping to the store, our women's comfortable shoes are sure to be a Christmas hit.
We have three collections available to provide the utmost comfort:
Women's Unstructured – made with premium leathers and lambskin linings, containing an Air Circulation System to keep feet cool and fresh

Women's Cloudsteppers – perfect for the woman on the go, these lightweight shoes feature EVA soles and Cushion Soft™ technology, plus athletic details

Women's Cushion Plus – this range includes our signature Cushion Plus technology designed to reduce strain on the ball of the foot and provide shock absorption when walking
Glam holiday heels
Everyone loves dressing up during the festive season, so why not treat the woman in your life to something she can wear on Christmas day? From heels to platform shoes, we have plenty of women's holiday dress shoes for you to choose from.
Glam it up with a pair of strappy heeled sandals, available in a variety of shades. Or buy her a pair of elegant court shoes, perfect for taking an outfit from day to night.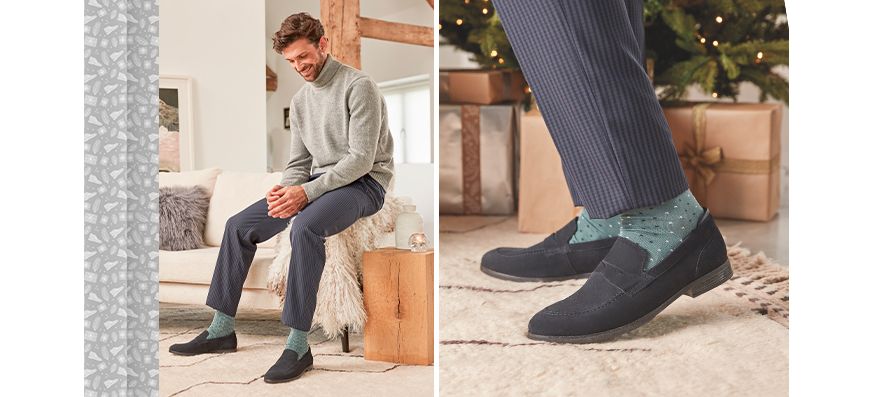 Christmas gift ideas for men
Whether you're shopping for your dad, uncle, brother, or partner, get inspired with our holiday gift ideas for him.
A practical pair of winter boots
A comfortable pair of boots can do no wrong, and the holiday season is the perfect time to treat the man in your life to a new pair. From the sole of the shoe right up to how the laces fasten, every single detail has been considered to ensure our range of men's boots is as comfortable as possible.
Choose from the latest styles, including ankle boots, desert boots, Chelsea boots and more. We have lots of collections on offer, including:
Men's Unstructured – featuring a unique Air Circulation System for lasting freshness, comfort and breathability

Men's Originals – Classically Clarks, our Originals collection includes stylish desert boots and wallabees
Festive dress shoes
Has your loved one owned the same pair of scuffed dress shoes for years? We guarantee that he will be overjoyed to receive a fresh pair of festive dress shoes this Christmas.
Men's holiday shoes come in a range of smart styles and designs. Brogues and Derby shoes make the perfect pairing for chinos and a smart top, while ankle boots and Chelsea boots are great for keeping feet warm during outdoor events. For an easy-to-wear smart style, get him some loafers or slip-ons.
Wallets and belts to complete the look
If your man's wallet looks a little battered, it may be time for a new one. Good quality leather wallets are some of the best Christmas gift ideas for men, since they're guaranteed to be used often.
A leather belt is another practical gift which always goes down well. Buy one in black or brown to ensure it goes with plenty of outfits.
Shoe Christmas gift ideas for kids
When it comes to buying kids' Christmas presents, toys are the obvious choice. Instead, why not get them a good quality pair of shoes that will see them through many more Christmases?
Shoes to match the grown-ups
If your mini-mes want to be just like you, you can make their dreams come true with our Family Matching collection! Featuring our most iconic men's and women's designs in smaller kids' sizes, our collection allows you to step out in the same pair of shoes as your little one.
Choose from three styles: our desert boots, wallabees and sneakers – just make sure you have your own pair in the exact same color and design.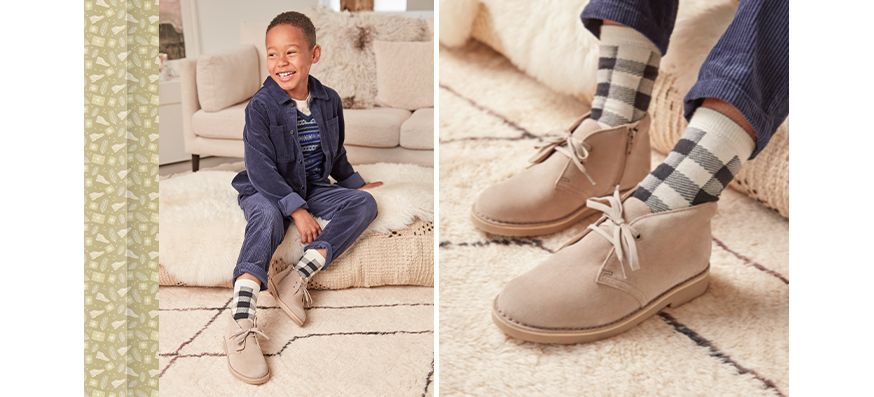 Cozy winter boots
The wintertime can get very chilly – particularly when you only have small feet! Keep kids' feet cozy and warm this holiday season with the perfect pair of boots. We have lots of stylish designs to choose from, from fun cartoon prints to smart and classic silhouettes. Shop our boys' and girls' boots today.
Christmas stocking ideas
Christmas stockings are always fun, but it's easy to run out of ideas! Get inspired with our Christmas stocking stuffers.
If you're searching for something compact to fit in your stocking, our accessories are a great place to start. Wrap up a pair of cozy slippers or socks, or treat your loved one to some shoe care accessories. From our Instant Shine Sponges to Shoe Refresher sprays, there's plenty available to spruce up your loved ones' shoes.
For more stocking stuffer inspiration, shop our women's and men's accessories.
Gifts for every budget
If you're shopping with a specific budget in mind, we've compiled a list of our very best items to match your wallet.
Gifts under $200
We have lots of fabulous gifts under $200. Here are some of our favorites:
Gifts under $100
Looking for gifts $100 or under? We've got you covered! Here are just a few from our collection:
Gifts under $50
We have plenty of Christmas gift inspiration for budgets $50 and under. Here are some of our top picks:
With so many gift ideas to choose from, we guarantee you'll be sorted for at least the next five Christmases with our gift guide! For even more inspiration, check out our Holiday Gift Guide, where you can find more gift ideas for him and her, plus gifts for every personality and style.