Your browser is out of date and will not be compatible with our website.
Please download one of the following browsers to be able to easily view our website.
How to Break in New Shoes
Breaking in shoes isn't the easiest of tasks. In fact, the risk of getting blisters and sore feet is enough to put some people off buying new shoes. But what if we told you that breaking in shoes doesn't have to be a chore?
Our guide to breaking in new shoes will help you to comfortably fit into your footwear in no time. We've got all the tips for breaking in your shoes and looking after sore feet, so you'll be able to flaunt your new purchase in no time.
Why are my shoes uncomfortable?
There are plenty of reasons why your shoes feel uncomfortable. Here are a few of the most common:
You're wearing the wrong-sized shoe
Shoes that are too big or too small can cause blisters, rubbing and discomfort, so your shoes must be the correct size. If you can't remember when you last measured your feet, it may be time to reassess your size. Consult our handy measure and fit guide, ensuring you measure both feet (since one foot may differ from the other!).
You need a wider fit
If you're confident in your shoe size but don't fit comfortably, your shoes might be too narrow for your feet. At Clarks, we stock plenty of fits ranging from narrow and regular to wide and extra wide, so you can tailor your shoes to your feet.
Your shoes are poor quality
Mass-produced shoes made with cheap materials often lack the expert touches designed with foot health in mind. For guaranteed comfort, always buy your shoes from a reputable footwear brand.
You aren't wearing shoes suitable for the shape of your foot
Your feet are entirely unique to you. So, if you have a high instep, low ankle bones or a high arch, certain styles may be more comfortable than others (check the 'ask the expert' section of our fit guide).
How to look after sore feet
You've discovered why your shoes are uncomfortable; now it's time to treat your sore feet. It sounds like you could do with a pampering. Why not soak your feet in a soothing foot bath filled with Epsom salts and scented bubbles?
Massages, stretching exercises and topical pain-relieving medication are also beneficial methods for treating sore feet. If you have blisters, resist the urge to touch them and pop on a specialist blister plaster to protect them as they heal.
5 tips for breaking in new shoes
You've measured your feet and bought yourself a top-quality pair of shoes. Now it's time to break them in! While some rubbing and discomfort are to be expected, here are the ways you can make breaking in your shoes as pain-free as possible:
Make sure your shoes are the right size
The right-sized shoes make all the difference to the comfort and health of your feet. Too big shoes can cause your feet to slide, resulting in blisters and soreness. Shoes that are too small can constrict your feet and put pressure on different areas of your feet, causing (you guessed it) blisters and soreness.
Measure your feet before purchasing new shoes and read the brand's size guide since sizes can vary slightly. Try on your new shoes in-store if possible so you can check they fit comfortably.
Wear thick socks
Not only do thick socks protect your feet from blisters, but they also help to stretch your shoes into a more comfortable fit. Even if your shoes don't usually require a pair of socks, it's best to wear them for the first couple of days when the shoes are at their tightest.
Tie your shoes as you usually would
Keeping your shoes laced loosely when you're breaking them in can be tempting. But while your feet may feel a little more freedom, this can extend the breaking-in process. Instead, tie your shoes as tightly as you usually would. The more they're stretched, the looser they will become!
Alternate your footwear
As you're breaking in your shoes, make sure you regularly switch to more comfortable footwear to allow your feet some time to relax. If you're wearing your new shoes out and about, we recommend bringing a comfortable spare pair out with you in case you need to change into them.
Looking for comfortable shoe inspiration? Explore our collection of women's sneakers and men's sneakers.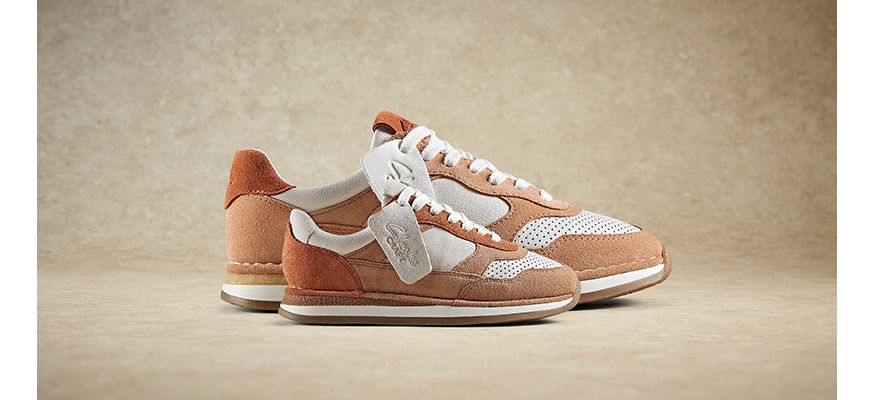 How long does it take to break in shoes?
It usually takes around 3 to 4 weeks until your new shoes should begin to feel more comfortable. We understand you want to break into new shoes fast. However, the breaking-in process depends on multiple factors, such as the style of shoe, its material and how often you wear your shoes.
How to break in heels
Heels aren't always the most practical shoes, and breaking into them can be especially tricky. But breaking them in is still possible without hurting your feet. Use our breaking-in steps listed above, or try these additional ideas to see what works for you:
Gently bend and twist your heels to reduce stiffness

Use a hairdryer on your heels with low heat to soften them

Pop a sealed bag of water inside your shoes, then freeze them, allowing the ice to stretch the material
Now you've learned how to break into shoes, it's time to fall in love with a new pair. Browse our collection of men's boots and women's boots, or discover our ultimate sneaker guide to find your latest addition.