Your browser is out of date and will not be compatible with our website.
Please download one of the following browsers to be able to easily view our website.
How to Choose Shoes for Kids
As children's feet develop, it's important that they're taken care of – and this starts with choosing the right pair of shoes. Shoes that are too big or small can cause growth problems and discomfort.
We understand that selecting the perfect pair of kids' shoes can be overwhelming, with many factors to consider. That's why we've put together our guide to choosing shoes for kids. We'll help you find the right size, style, fastening and material. Plus, we'll share our current favorite kids' shoes to inspire you!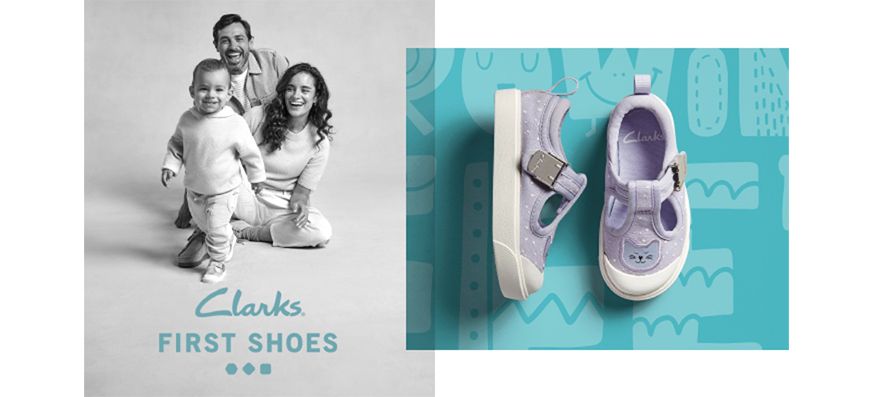 What should I consider when buying shoes for kids?
There are many things to think about when picking your child's next pair of shoes. Here are the key considerations:
Your child's age
The type of shoes you choose largely depends on your child's age. Different sizes suit different age groups; for example, the best shoes for one-year-olds will differ from pre-teens.
If your child's learning to walk, help them take their first wobbly steps with a sturdy pair of toddler shoes. Soft and comfortable, with grippy soles and lots of flexibility, they're perfect for the job.
As the kids get older, shop our Mini Me collection and match your shoes to theirs. If they've always wanted to be like mom or dad, then now's their chance! Have a future sports star on your hands? Our Craft Sports collection includes retro-inspired designs in suede and leather to ensure they're the most stylish kid on the sports field.
Shoe size
Before buying shoes for your little ones, you need the correct size. Measure your child's feet by placing their foot flat on the floor and measuring the length and width with a ruler. Make sure you measure both feet, then consult our size guide charts to find the right size.
It's important that shoes fit perfectly so that children's feet can grow and develop without any discomfort. Shoes that are too small can cause ingrown toenails and blisters, while styles that are too big may rub against your child's feet.
How do you know that your child's shoes fit correctly? Ask your little one to put on their shoes, then slip a finger down the back collar. You should be able to do this comfortably; if the space is too tight or loose, the shoes may be the wrong size.
Style
When choosing the shoe style, consider the occasion and time of year. Comfortable sandals or flip-flops are summertime essentials, while sneakers make the perfect day-to-day shoe in the remaining seasons.
If you're searching for comfortable shoes for kids that'll last, take a look at our options: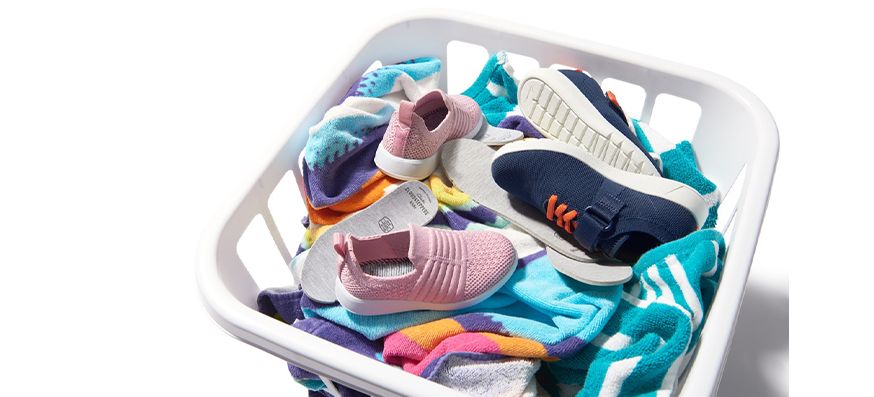 Material
There are plenty of shoe materials to choose from, the most popular being suede, leather and canvas. Material affects the durability and overall appearance of shoes. Leather shoes are a fantastic option for kids, as they're easiest to clean. Suede shoes are best saved for special occasions and should be kept out of mud and rain. Read more about how to clean leather and suede shoes.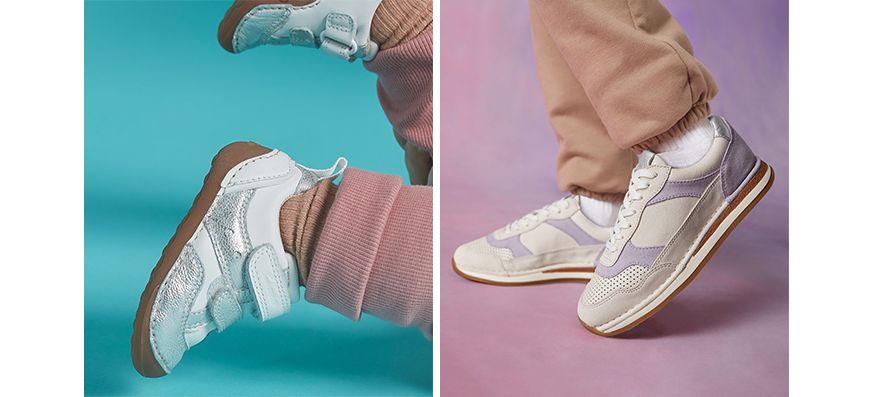 Which shoe fastenings are best for kids?
Another thing to consider when buying kids' shoes is the fastenings. Buckles and laces can be tricky for younger children to master, in which case a rip-tape fastening is best. Here are some of the most common fastenings:
Rip-tape – these sticky tabs are easily stuck together and pulled apart

Laces – a secure fastening often found on sneakers and boots

Buckles – a fastening usually found on sandals and dainty shoes
How often should I buy new shoes for my kids?
The best way to know if your kids need new shoes is to measure their feet frequently. However, here are some guidelines for how often to buy new shoes for your children:
Ages one to three outgrow their shoes around four times a year

Ages four to eight outgrow their shoes around every six months

Ages nine to 12 outgrow their shoes around every 12 months
What are the common foot problems in children?
When choosing children's shoes, you need to be aware of any foot issues that may affect the fit. They usually resolve as children get older or with the help of arch supports or orthotic taping. Here are some common foot problems:
Out-toeing – this occurs when your child's feet point out while walking. The best shoes for out-toeing have a straight sole, a supportive outsole and a firm heel. With its C-SHX cushioning system and dual-density EVA footbed and sole, the Cica Kid is a fantastic option

Pigeon toeing – the opposite of out-toeing, pigeon-toeing is when children walk with their feet turned in. This can be caused by a genetic condition and often resolves over time. We recommend supportive shoes that encourage your child to keep their toes turned forward. Our City Bright Toddler shoes are great for younger kids, with secure rip-tape straps and thick, bouncy soles

Flat feet – sometimes, the foot's arch doesn't develop during childhood, leading to flat feet. Once children get past the age of six, their feet should become more arched. Sneakers are the best shoe style for flat feet, providing sole and ankle support

Wide feet – wide feet are relatively common, so wide-fit shoes are easy to find. Learn more in our wide feet shoe guide.
Now that you've discovered all there is to know about buying kids' shoes; it's time to get shopping! Take a look at our complete collection of kids' shoes, or browse our girls' and boys' shoes to find the ideal pair for your little one.