Your browser is out of date and will not be compatible with our website.
Please download one of the following browsers to be able to easily view our website.
How to clean white sneakers
From chunky to canvas, white sneakers simply never go out of fashion. In fact, we'd be willing to bet that you have at least one pair in your closet! White has so many plus-points; it's such a classic color and it goes well with everything. But there's just one little catch… white shoes are like magnets for scuffs, marks and stains.
Your favorite white sneakers may be more susceptible to showing dirt, but this doesn't mean you should immediately banish all white shoes from your closet. Here's how you can make your shoes white again, whether they're canvas, leather or suede.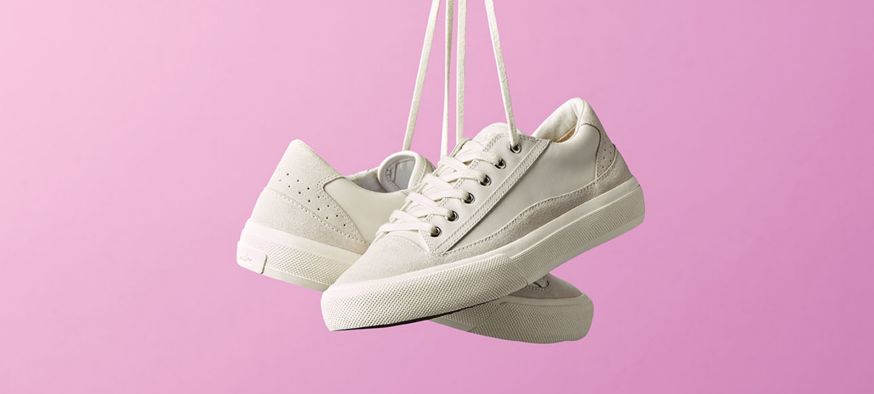 How to clean white canvas sneakers/ white fabric shoes
White canvas sneakers are the perfect lightweight shoes for wearing to the beach or for a casual dog walk. However, their absorbent material means they can soon pick up scuffs or stains. If you've noticed them looking a little more battered recently, here's how you can restore their original beauty:


What you'll need
One tablespoon of baking soda

Two tablespoons of white vinegar

One cup of warm water

One spoon (for mixing)

One unused toothbrush
Method
Using your spoon, mix the baking soda and white vinegar together with the cup of warm water. Keep mixing until it becomes a paste

Begin dabbing a small amount of paste onto the stains on your sneakers, then lightly scrub the marks with your toothbrush

Scrub until the stain has disappeared, then leave your shoes to air-dry. Keep them away from direct sunlight or heaters

Once dry, the remaining paste can be gently scraped off
How to clean white leather sneakers
A timeless classic, white leather sneakers are a staple in everyone's closets. Water, dirt, salt, oil and ink are all common culprits for staining leather. However, it's one of the easiest materials to clean! Here's how you can keep your white leather sneakers looking fresh and new.


What you'll need
A shoe brush

One cup of cold water

One tablespoon of white wine vinegar

One spoon (for mixing)

A cloth

Clarks' Instant Shine Sponge
Method
Buff your sneakers with a shoe brush to remove any caked-on dirt

Thoroughly mix your cup of water with the white wine vinegar using your spoon

Dampen your cloth with the mixture and wipe it gently over your sneakers, focusing on the stained parts. Make sure the cloth isn't too damp as leather doesn't react well to lots of water

Leave your shoes to air-dry, keeping them away from direct sunlight or heaters

Once they're dry, buff the leather with our Instant Shine Sponge to add shine and remove any remaining scuff marks






How to clean white suede sneakers

While they're not as popular as leather sneakers, white suede sneakers are great for meals out or those smart/casual events where you're never quite sure what shoes to wear. Suede has a reputation for being difficult to clean—but knowledge is power! As long as you follow our tips below, there's no going wrong.



What you'll need

Suede and nubuck foaming cleaner

One clean toothbrush

One tablespoon of white wine vinegar

A clean, dry cloth

A cloth

Clarks' Rain and Stain 





Method

Using your toothbrush, lightly apply a small amount of your suede and nubuck foaming cleaner

Scrub gently with the grain in the direction that the suede naturally sits

Once your sneakers are looking clean, remove the excess product with a cloth and leave your sneakers to dry for 30 minutes

Leave your shoes to air-dry, keeping them away from direct sunlight or heaters

To protect and prevent further damage, spritz your sneakers with Clarks' Rain and Stain 
Dos and Don'ts
Now that you've learnt how to clean your white sneakers, here are some general dos and don'ts to keep in mind before you begin:
Do clean your sneakers regularly. It's much easier to clean scuffs and small amounts of dirt every so often, instead of allowing a build-up to occur

Don't use soap to clean your sneakers. As explained in our shoe cleaning guide, soap can cause discoloration and stains—particularly in leather sneakers

Do use our Rain and Stain  often to keep your sneakers protected from the elements. You can also keep them smelling good with our Shoe Refresher

Don't use too much water, particularly when cleaning leather or suede sneakers. Water damages leather by drawing out its natural oils, causing it to become stiff and brittle

Do pay attention to where you're walking! Try to avoid muddy paths and grassy areas wherever possible
How to keep white shoes clean
When it comes to keeping your white sneakers white, prevention and maintenance are key. Here are some things you can do to help keep your shoes clean:
Make use of our Rain and Stain  for protection against all the elements. Spritz your shoes each time you're ready to leave the house to form an invisible barrier against dirt, stains and water.
While we can't always predict the weather, try not to wear your white sneakers when rain or snow is forecast. Stick to the sidewalk and avoid grassy or sandy surfaces that could easily stain your shoes.
For general upkeep, wipe away dirt with our Premium Shoe Wipes. Finish with a quick spritz of Shoe Refresher to keep your shoes smelling their best.
Expand your sneaker collection with our men's white sneakers and women's white sneakers. Meanwhile, if you're looking for more style and shoe care tips, head over to our blog.