Your browser is out of date and will not be compatible with our website.
Please download one of the following browsers to be able to easily view our website.
How to Style Flat Shoes
Comfortable, practical and effortlessly chic, flat shoes can do no wrong. With so many designs, colors and materials to choose from, the styling possibilities are endless!
Whether you've already got them or you're shopping for a new pair, our guide provides plenty of helpful inspiration. Read on to learn about styling flat shoes, including which designs are most popular and what to wear them with.
What are flat shoes?
Flat shoes keep the balls and heels of your feet on the ground, making them ideal for everyday wear. They often have no heel or a minimal heel for cushioning and are available in many styles.
Flat shoe styles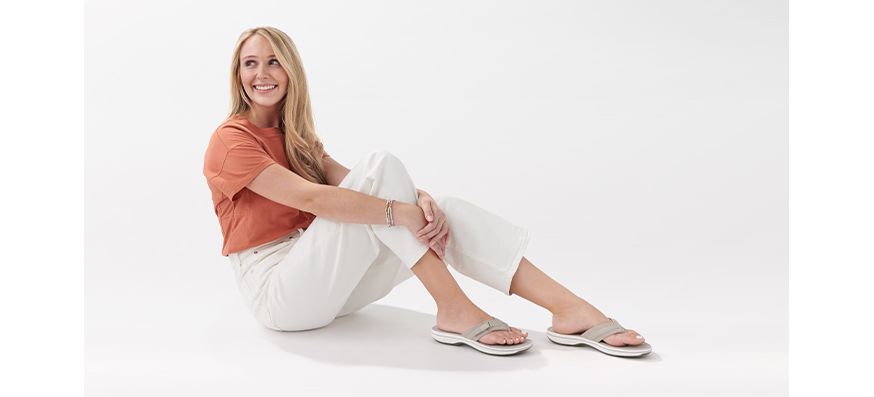 1. Sandals and flip-flops
Sandals and flip flops are the perfect summer shoe. There are plenty of options to suit every taste and occasion, from slip-on to buckles, suede to leather.
Flip-flops are a must if you're searching for a casual vacation style. They're easy to slip on and off, making them ideal for wearing to the beach or pool. Meanwhile, flat sandals are a slightly dressier option, perfect for summer date nights or keeping cool while running errands. Choose a pair with buckles or rip-tapes and ankle straps for extra support.
Some of our favorite styles of sandals include slip-on Breeze Pipers, which are available in four classic colors. We also love our Orinco Strap, a supportive sandal that can be worn every day. Meanwhile, our Breeze Sea flip-flops are available in 20 colors and are both practical and stylish.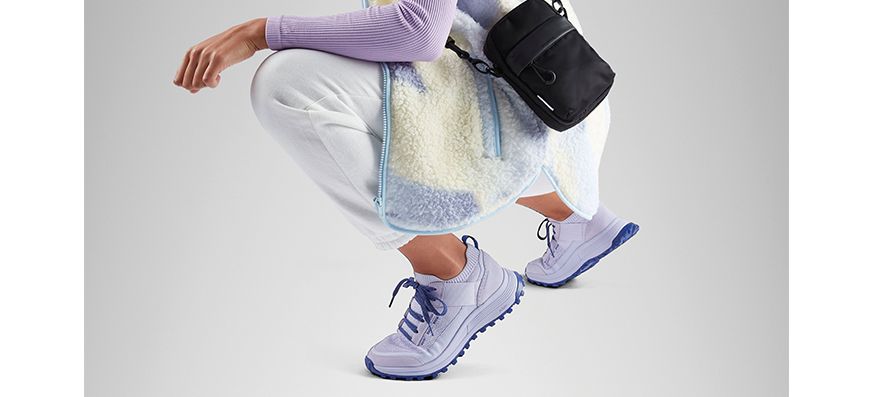 2. Sneakers
Sneakers are one of the most popular styles of shoe. They're gender-neutral, brilliantly versatile, and match well with endless outfits. Wedge and chunky sneakers have dominated recent catwalks, but flat sneakers are always a fashionable and practical choice. White sneakers go with everything, but why not have fun with a bold color for a standout look?
Sporty with a retro feel, Craft Match Lo sneakers are the perfect flats for every occasion. Designed with our Cushion Plus™ foam footbed and Lightweight EVA midsole, they're comfortable enough for everyday use. Alternatively, the Court Lite Move is the ultimate smart-casual flat sneaker. With sleek leather uppers and a classic lace-up fastening, they look as good as they feel.
Discover our entire collection of men's sneakers and women's sneakers.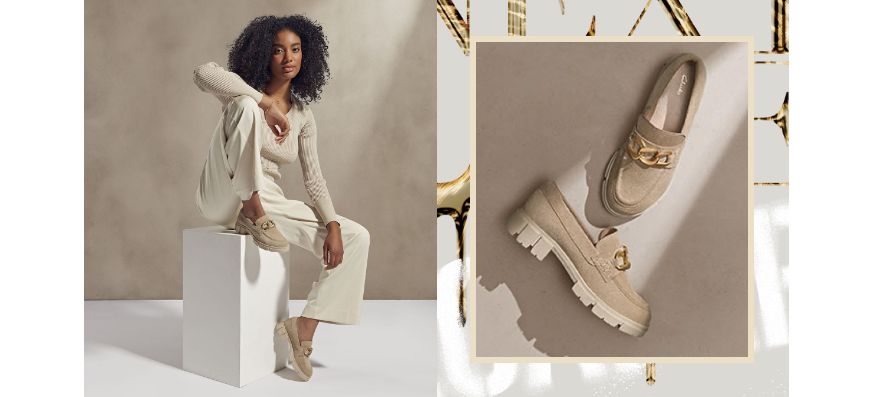 3. Loafers and mules
A slightly more formal shoe, mules and loafers are perfect for the office. Mules are a style of backless, slip-on loafers; both are stylish, but loafers might be a better choice if you need a bit more heel support. These styles are usually made in leather or suede and slip on, making them as comfortable to wear as your favorite slippers. We have plenty of loafers and mules to choose from at Clarks. Our favorites include the Trek Mule, Wallabee Cup Lo, Sarafyna Iris and Pure 2 Tassel.
4. Ballet pumps
For feminine looks, you can't beat ballet pumps. This dainty design has a flat heel and closed toe, exposing the top of your foot. Ballet pumps are often made from satin or soft leather and have a very comfortable fit. A classic black pair suits most office environments, or you can have fun with a color or pattern to create a bolder look.
Outfit inspiration for flat shoes
Now that you've settled on your perfect pair of flats, it's time to plan how to wear them. Here are some ideas:
How to wear flat shoes with a dress
Plenty of flat shoe styles look fabulous with a dress, particularly ballet pumps and sandals. Sneakers and loafers offer a cooler, more masculine edge, while flip-flops are perfect for sunny beach days.
Midi, maxi and mini dresses can look great with different styles of flat shoes, so don't be afraid to switch up your look. Bodycon dresses work particularly well with sneakers, while feminine, floaty dresses are perfect with ballet flats or sandals.
How to wear flat shoes with jeans
There's no better combination than comfy flat shoes and your favorite pair of jeans. While loafers and mules are timelessly chic, in the summer months, keep your feet cool and pair your jeans with sandals or flip-flops.
Blue or black jeans are the most common, and it's easiest to match these colors with your flat shoes. Brighter colors offer a refreshing look if you prefer to stand out from the crowd.
How to wear flat shoes on a night out
If you prefer flat shoes over heels for all occasions, find gorgeous pairs perfect for nights out. You could channel casual comfort and wear sneakers with a dress, trousers or your favorite jeans for a night out. If the venue has a stricter dress code, plenty of dressy flat shoe options, including strappy sandals and mules, can look just as showstopping as heels.est to match these colors with your flat shoes. Brighter colors offer a refreshing look if you prefer to stand out from the crowd.
How to wear flat shoes to a wedding
Weddings are a perfect excuse to dress up, but that doesn't mean you can't wear flat shoes! There are many flat formal shoes for women, so you're sure to find the perfect pair for your look.
Dainty sandals can perfectly complement your outfit if you're wearing a dress. Our Brinkley Flora sandals in white or taupe are an excellent option for summer weddings. Meanwhile, a pair of loafers will provide the perfect finishing touch if you've opted for a sophisticated suit – our Pure Belle flats are an effortless option.
Can you wear flat shoes if you have flat feet?
Yes – but be mindful of the style you choose. Shoes with arch support, like sneakers and loafers, are best for flat feet. Meanwhile, shoes with thinner soles, like sandals and flip-flops, don't always provide the best support.
When you shop at Clarks, you can be sure you always get the best arch support for your feet. We use revolutionary technologies, including the Cushion Soft™ PU foam footbed, to ensure feet are supported every step.
Can you wear flat shoes without socks?
Certain styles of flats, like ballet pumps and sandals, show off your socks. Try low-cut or hidden-liner socks, or go bare with none, exposing the tops of your feet.
From mules to flip-flops, there are so many styles of flat shoes to choose from. For more inspiration, browse our complete collection of women's flat shoes.