Your browser is out of date and will not be compatible with our website.
Please download one of the following browsers to be able to easily view our website.
How to Style Men's Dress Shoes
Whether you're planning your office outfits or heading to a wedding, a good-quality pair of dress shoes will last you years. And with so many styles to choose from, there's a pair for everyone.
You may be wondering what types of dress shoes are available, or perhaps you want to know how to wear them. Our guide to styling men's dress shoes will tell you everything you need to know – plus we'll even show you how to keep them as good as new.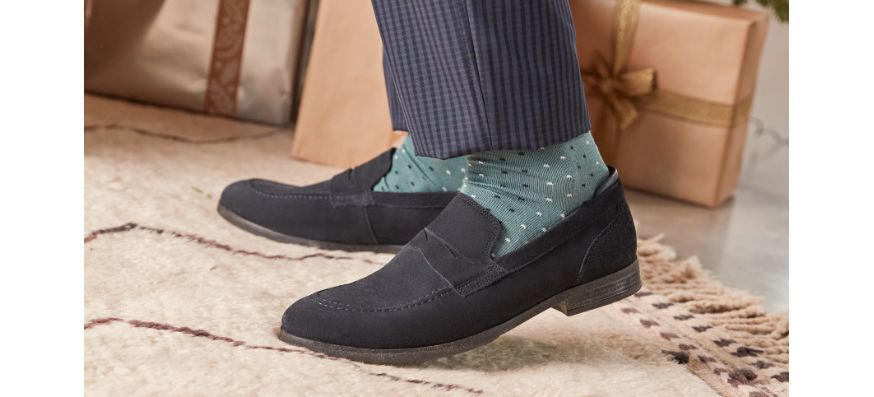 What types of men's dress shoes are there?
No matter the occasion, no matter your taste, there's a style of dress shoe for you. In the colder months, boots are great for keeping your feet warm, while in the summer you may prefer a smart pair of loafers. Popular types of dress shoes include:
Brogues

Derby shoes

Loafers and slip-ons

Ankle boots (including Chelsea boots, desert boots and chukka boots)
Lace-up dress shoes
Perfect for a day in the office or a business meeting, lace-up dress shoes come in a range of colors and designs. Pick up a pair in suede or leather, in black, brown, tan or gray to complement any outfit.
Brogues, Oxfords and Derby shoes are some of the most common lace-up dress shoes. Each looks fairly similar, with a closed toe, small heel and thin laces. However, brogues stand out with their 'broguing' – perforations or small holes around the shoe's uppers.
How to wear lace-up dress shoes
Lace-up dress shoes look great with any formal outfit. But if it's not the right occasion for a suit, the good news is that they still work as a casual dress shoe. Wear your lace-up shoes with chinos and a button-down shirt, or swap your chinos for chino shorts in the warmer weather.
Ankle boots
In the colder months, ankle boots make a great addition to your smart looks. Certain styles go particularly well with formalwear, including:
Chelsea boots

– these are characterized by their elasticated side panel and are available in leather and suede

Chukka boots – these suede boots come in shades of sand, brown, black and gray and have a small rubber heel or platform

Desert boots – a type of chukka boot, desert boots tend to be made of a thinner leather than normal boots, and they don't sit as high up your ankles
How to wear ankle boots
Versatile and stylish, ankle boots are the ideal addition to all smart outfits – particularly in the winter months. Wear your formal ankle boots with chinos or black jeans for a smart casual look. Add a button-up shirt and finish with your favorite tie (depending on the occasion).
If the event calls for it, you can even wear your ankle boots with a suit. They're a great way to keep your feet warm in the winter and help you stand out from the crowd. Just make sure the color of your boots doesn't clash with your suit, and keep your socks hidden for a more professional look.
Loafers
Loafers are easy to slip on and off on the account that they don't have any laces or fastenings. This makes them a popular choice for a formal shoe as they're comfortable and stretchy. Plus, they're less constricting than other formal shoes.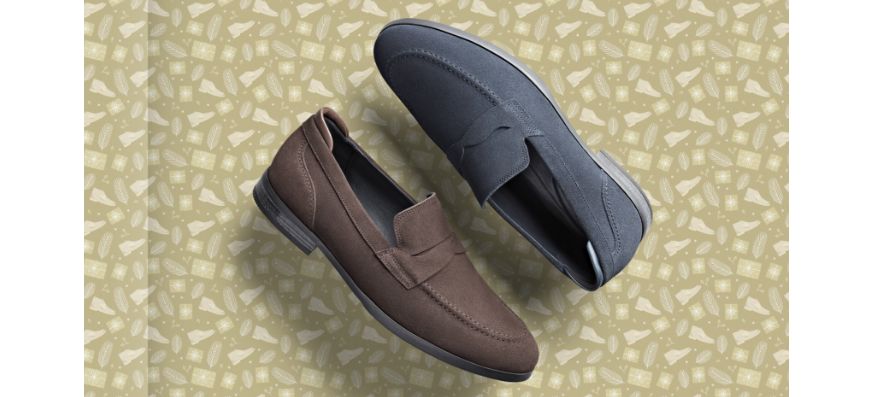 How to wear loafers
While loafers are seen as comfortable, their comfort doesn't compromise their style. These smart shoes make the perfect pairing for a suit or chino ensemble, and they're versatile enough to work with casual outfits too.
While there's some debate over whether you should wear socks with loafers, the choice is up to you. Many people tend to favor loafers with no socks, or you can wear invisible socks underneath if you don't like the feeling of bare feet in shoes. Alternatively, you can rock your socks on full display – a nice option in the wintertime.
How should dress shoes fit?
When finding a pair of dress shoes, you should follow all the general guidelines for how shoes should fit:
Most importantly, find out your shoe size – if you're unsure, measure your feet. Remember to measure both of your feet as they could well be two totally different sizes

Try on your new dress shoes in the afternoon, as your feet tend to swell throughout the day

To check that your shoes are the right size, make sure you can fit one adult finger down the back of your shoe, no more and no less

Break in your new shoes slowly. Wear them around your house with thick socks to help stretch them and prevent your feet from getting blisters. Then, when it comes to wearing them out, they should be nice and comfortable
Caring for your dress shoes
A good-quality pair of dress shoes should last you years if you look after them properly. Here are some ways you can care for your formal shoes:
There are so many ways to wear dress shoes, no matter the occasion. Looking for more styles? Shop our collection of men's shoes today.