Your browser is out of date and will not be compatible with our website.
Please download one of the following browsers to be able to easily view our website.
How To Style Sneakers: The Ultimate Guide
Comfortable, versatile and always on trend, the humble sneaker can do no wrong. Perfect for all ages and genders, they can be worn with any look for just about every occasion.
If you're searching for some style inspiration, our ultimate guide to styling sneakers is here to help. Find out all you need to know about wearing this versatile shoe, including how to style sneakers for different events and what outfits look best with your new kicks.
Styling sneakers for different occasions
Different occasions call for different shoe styles. Luckily, trainers are versatile enough to be worn at both formal and informal events. Here are some ways to style them:
How to style sneakers for work
Heading into the office? Sneakers can make a great pairing to your work outfit, so long as your work doesn't have a super formal dress code. In fact, contrasting smart and casual clothes is one of the top current fashion trends, so what are you waiting for?
If you're feeling bold, pair a suit with sneakers for a fun contrast, or wear your sneakers with chinos and a polo top to keep things a little more on the casual side.
Smart yet comfortable, our Craft Cup Lace sneakers in black leather are the perfect pair of work shoes. Created with recycled and bio-based materials, and a Cushion Plus™ foam footbed, these comfy sneakers are a champion for sustainability.
How to style sneakers for casual events
Sneakers were originally intended to be worn with casual outfits, so creating a laid-back look requires minimal effort. Wear your sneakers with a simple pair of jeans and a tee or swap your jeans for shorts in the warmer weather. Sneakers also pair brilliantly with comfortable flares, leggings and a hoodie or casual dress.
If you're on the hunt for the most comfortable casual sneakers, check out our Un Rio Tie sneakers. Designed with a lightweight rubber EVA sole, you'll feel as though you're walking on air.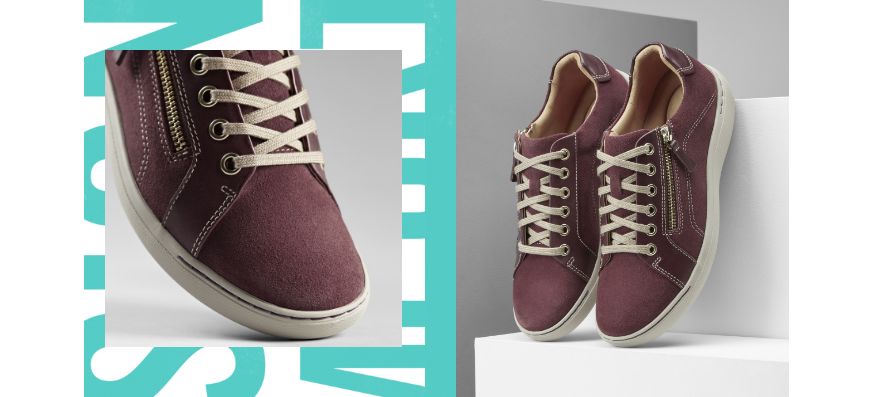 Styling sneakers with different outfits
There's very few looks that your sneakers won't match with. But if you're looking for inspiration, we've created some outfit combos that will always be a hit.
How to style sneakers with jeans
The classic sneakers and jeans combination can do no wrong. Whether you're a fan of skinny jeans or prefer looser mom jeans, your sneakers are a sure-fire pairing. Here are some ideas for styling jeans with sneakers:
Mom jeans with canvas sneakers

Blue jeans with white sneakers

Wide-leg jeans with white leather sneakers

Skinny jeans with high-top sneakers

Flared jeans with chunky sneakers

Black jeans with black sneakers
How to style sneakers with a dress
For the perfect contrast between the feminine and the masculine, pair your sneakers with a dress. There are plenty of sneakers and dress styles that work well for this look, so get creative!
If you're new to pairing sneakers with dresses, a pair of textile sneakers like our Breeze Ave can do no wrong. Wear them with a floaty, floral dress for a casual daytime look, or dress them up with your favorite bodycon dress for an evening dinner and drinks look. Switch your canvas sneakers for white chunky sneakers to embrace the chunky shoe trend, or wear your dress with high-top trainers to add an even bolder contrast to this look.
How to style socks with sneakers
While it used to be a fashion crime for your socks to be showing over the top of your sneakers, it's now right on trend! You can still pair no-show or invisible socks with your sneakers if you prefer to. But, if you want to follow the fashion, choose socks that finish just above the ankle.
Unsure what color socks to pair with your sneakers? As a general rule, many people choose to match the color of their socks to their sneakers. So white socks with white sneakers, black socks with black sneakers and so on. However, white sneakers are pretty versatile, so if you want to stand out, wear them with whatever colored socks you fancy.
Styling different types of sneakers
With so many different designs of sneakers to choose from, it's easy to find a pair to go with every outfit. Here are some of the most popular styles available:
Slip-on sneakers

Chunky sneakers

High-top sneakers

Running shoes

Canvas sneakers
Now you know more about the popular sneaker styles, it's time to find out how to wear them…
How to style slip-on sneakers
Comfortable and easy to wear, slip-on sneakers are ideal for those with busy and active lifestyles. They go with a range of outfits, from dresses and skirts to chinos and jean shorts. For a cool summer look, pair nude slip-on sneakers with a white skater dress. Or, in the colder months, wear your slip-on sneakers with leggings and your favorite sweater. Attending a more formal event? Slip-on sneakers are the perfect match for smart, tailored trousers.
With its comfort and breathability, the Un Rio Knit is the perfect slip-on sneaker. Created with a dual density arch support and high-rebound EVA midsole to keep you feeling light on your feet, these easy-to-wear sneakers will soon become your go-to shoe.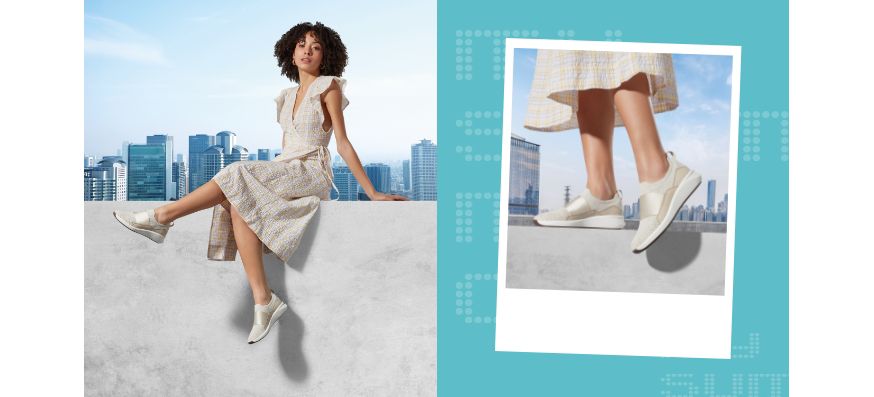 How to style chunky sneakers
A trend that's here to stay, no closet is complete without chunky sneakers. With their thick soles and attention-grabbing appearance, they certainly make a statement. Though bold may they be, chunky sneakers are surprisingly simple to style.
Ideal for pairing with outfits of every color, white is one of the most popular choices for chunky sneakers. Wear your chunky sneakers with jeans and a casual tee year-round, or pair with a floral midi dress come summer time.
Looking for a chunky sneaker with a difference? The high-top Ezera Mid sneakers in dark gray will bring something special into your closet. Created with a thick, white sole designed with flexibility and comfort in mind, this sneaker is the ideal combination of style and substance.
With so many sneakers to choose from, we hope this guide has helped to inspire you! Take your pick from our collection of women's sneakers, designed for people who are always on the go. Want to give your current wardrobe a spruce-up? Discover our guide on how to clean white sneakers.