Your browser is out of date and will not be compatible with our website.
Please download one of the following browsers to be able to easily view our website.
How to Wear Leather and Suede Ankle Boots
From Chelsea to biker, ankle boots come in many different styles and designs. They're brilliantly versatile, can be worn year-round and never seem to go out of style. Need we say anymore?
Whether you're dressing your ankle boots up or wearing them to a casual event, their styling opportunities are limitless. But, when there's so much choice, sometimes it can be hard to know where to begin! Luckily, Clarks is here to help with plenty of ankle boot outfit inspiration. Read on to discover how to style both leather and suede ankle boots.
Ankle boot styles
First off, let's delve into some of the more popular styles of ankle boots available.
Chelsea boots – characterized by their elastic side panel, Chelsea boots are a wardrobe classic. Styles come in both leather and suede in a variety of colors

Desert boots – suede is the most common material for desert boots, which feature a lace-up design. Popular colors include brown, tan and black

Chukka boots – another style of desert boot, chukkas feature a lace-up design and suede material

Clarks' Wallabee boots – a part of our Men's Originals range, the iconic Clarks Wallabee boots are characterized by our signature crepe sole and moccasin stitching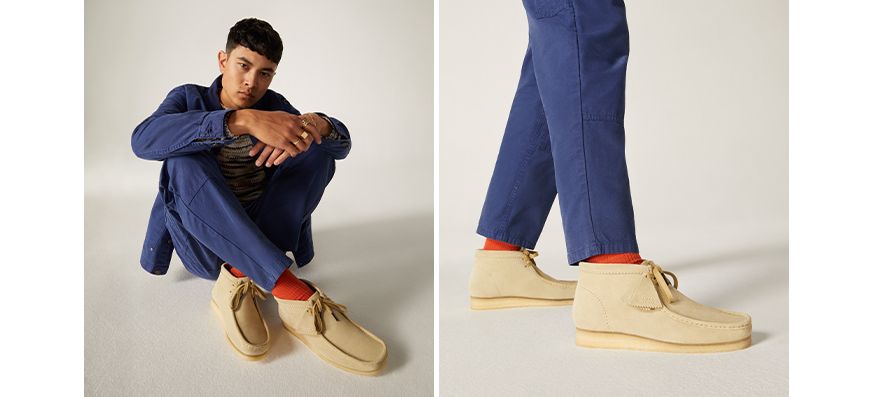 What to wear with leather ankle boots
Leather ankle boots really do go with just about anything. This makes things really fun, as you have the freedom to be as creative as you like with your looks!
Women's leather ankle boots outfits
Leather ladies' ankle boots are the ideal shoe to wear to the office, and they look great with a variety of workwear outfits. Keep things simple and pair them with a blazer and smart pants, adding a button-up shirt underneath. If you prefer to wear skirts to work, show off your leather ankle boots with a pencil skirt and tucked-in tee for some effortless glam.
Once the workday is over, it's easy to dress up your look with the same boots. So, if you're heading for after-work drinks and want to look a little less corporate, simply change into your favorite dress or jeans and tee combo. Your ankle boots will go just as perfectly with jeans as they will with a dress, so there's no shortage of options.
Shop our leather ankle boots for women.
Men's leather ankle boots outfits
There are plenty of ways you can style men's leather ankle boots for work, giving you endless outfit possibilities. If your dress code is smart casual, grab a pair of Chelsea boots and wear them with black jeans, a black shirt, and a brown button-down jacket. You can add extra touches to make the look more formal if needed, such as a briefcase or blazer. Alternatively, wear your ankle boots with tan chinos and a smart shirt for a look that's always guaranteed to work. Throughout the week, simply switch your chinos or shirt to a different color to keep the look fresh.
Take your leather ankle boots look from day to night by making a few switches. Your chinos can be replaced with jeans, your blazer with a denim jacket. If you're heading on more of a casual night, swap your shirt for a tee or cozy sweater and let the boots do all the talking.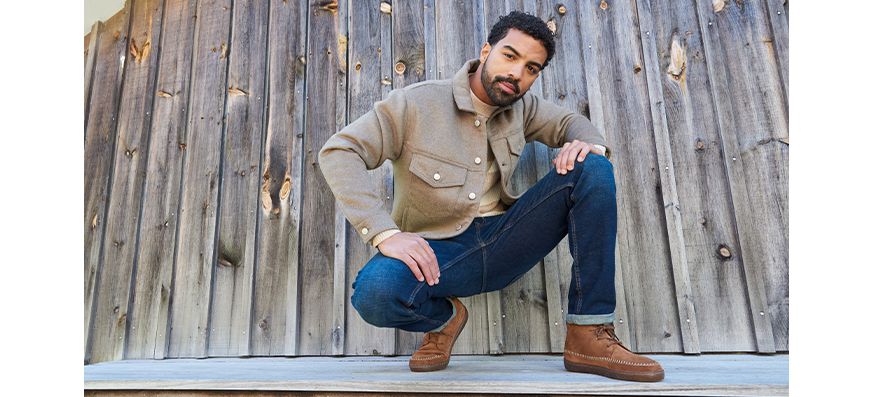 What to wear with suede ankle boots
Like leather boots, suede ankle boots are fabulously versatile when it comes to creating a look. They go with just about anything, from jeans and chinos to skirts and dresses. However, suede is more sensitive to rain and mud and is harder to clean, so always check the weather before heading out in these boots.
Women's suede ankle boots outfits
Suede ankle boots are the perfect pairing with your workwear. Style them with a floaty midi dress and leather jacket combo in the summer months, or with leggings and an oversized shirt in the wintertime. There are plenty of styles that work well for the office, including Chelsea boots, zip-up or lace-up designs and heeled and non-heeled options.
If you're heading out for drinks with the girls or a date night with your partner, your suede boots will be perfect for the occasion. Wear them with whatever suits your style, whether that's a fun and flirty mini dress or your favorite 'jeans and a nice top' combo. Heeled suede boots can help dress up a look, and you don't need much of a heel to make an impact. For more tips and tricks to wearing high heels, discover our ultimate heel guide.
Men's suede ankle boots outfit
There are plenty of styles of men's suede boots that look good with your work attire. Desert or chukka boots are classic styles for work and go perfectly with chinos, suit trousers and other smart pants. Alternatively, opt for a pair of suede Chelsea boots and wear them with black jeans if your office has more of a casual dress code.
Take your suede boots from day to night and wear them with jeans or shorts and your favourite tee. Add a bomber jacket or leather style and you're good to go.
Thanks to their versatility, ankle boots can do no wrong when it comes to styling an outfit. Discover our full collection of women's and men's boots, or if you're looking to spruce up an old pair, read our guide to cleaning and protecting your shoes.