Your browser is out of date and will not be compatible with our website.
Please download one of the following browsers to be able to easily view our website.
The Top Spring Shoe Trends
It's always an exciting time when you wave goodbye to your winter boots and bring out spring footwear. The weather is getting warmer, the days are extending, and you might even begin to think about wearing open-toe shoes.
Let's take a look at this year's top spring shoe trends to find out which colors, styles and materials are in this year. We all know that spring looks different in every state, so tailor these trends to complement your current climate.
The top shoe styles for this spring
From sneakers to mules, let's find out which shoe styles are in this spring!
Flats
Heel-phobes can celebrate this season as flat shoes are officially in. Not only are they super comfortable, but they also come in plenty of styles, like ballet pumps . So, slip into flats and strut in style (and comfort).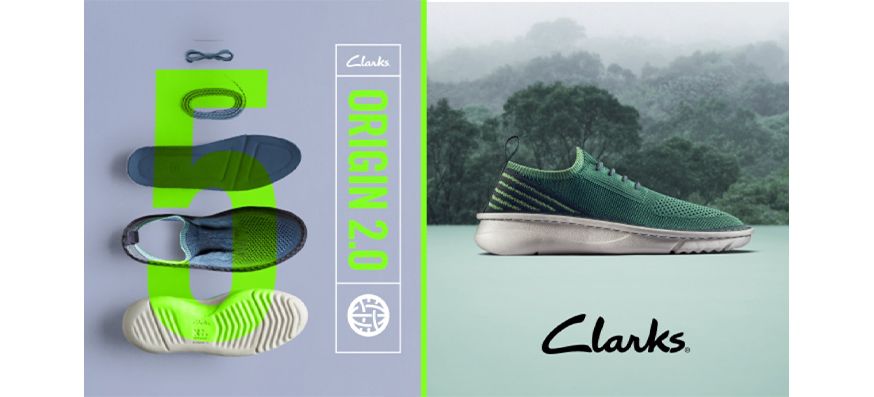 Sneakers
Comfortable and practical, sneakers are some of the best spring shoes. Once a shoe reserved for exercise only, you can now wear sneakers whenever you like, whether you're walking the dog or brunching with the girls. Our tip? Choose a pair in white to go with every outfit.
Clogs and mules
Those in search of spring shoes for work should look no further than clogs and mules. Both styles are set to make a comeback this year, so now's the time to own a pair! Mules are designed to slip on and off the feet, while clogs have a low back to provide more support. These smart and practical shoes are made for the office.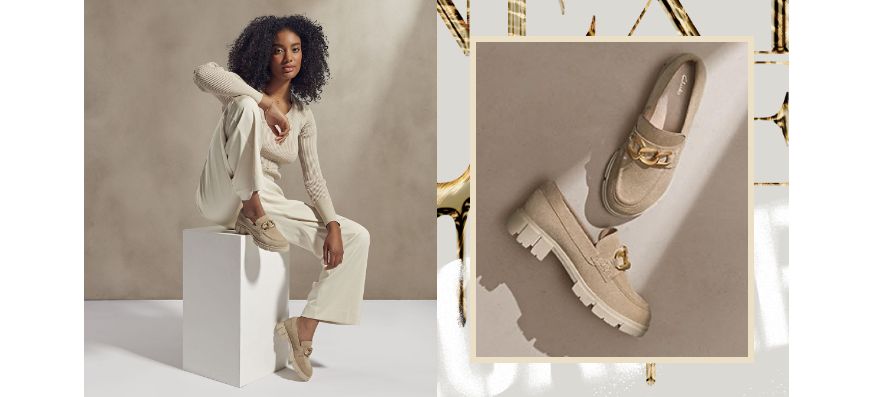 Loafers
Loafers are slip-on shoes with a back for extra support. They're set to make fashion waves this spring, with chunky styles spotted on numerous runways. Loafers are fantastic work shoes and look great paired with smart pants and a button-down shirt.
Platforms and wedges
Spindly stilettos may be out, but if you're looking for extra height, you'll be happy to know that platforms and wedges are in. These feet-friendly heels offer plenty of cushioning and grip – just look at our Dash Lite Wish!
The top color trends for this spring
Curious about colors? Here are the gorgeous hues seen on this year's catwalks.
Metallics
Metallic silver and gold shoes are set to be huge this spring. While metallics may seem bold, it's surprisingly easy to wear. Metallics follow the same rules as neutral shades, so you can pair them with any color. Hello, endless styling options!
The Nalle Lace in bronze, Rena Step in bronze, and Karsea Mule in silver are just a few of our favorite metallic styles.
Primary colors
The bolds are in this season, so stand out with your footwear. Primary hues like blue, red, green, and yellow have frequented this year's runways, and now it's time to experiment for yourself. Go all-out with a bold monochromatic look or keep your outfit neutral and let your colorful shoes do the talking.
Looking for some inspiration? Check out the Glide Post flip-flop in cherry red and bright blue. Or opt for the Sarafyna Iris loafer in grenadine leather or the Breeze Sea flip-flop in burnt yellow.
Pastels
Fans of softer shades will be happy to know that pastels aren't going anywhere. These fabulously feminine hues have always been associated with spring. From baby pinks and pale blues to soft yellows and light greens, there's a pastel shade to suit every mood.
Our Breeze Emily causal shoe comes in a range of pastel shades, like lilac, pale green and peach. More pastel styles include the Karesa Sun sandal in light coral and the Craft Run Tor sneaker in off white int.
What is the best material for spring shoes?
From leather to canvas, discover which are the best materials for spring.
Leather
Practical and easy to clean, leather is one of the best materials for spring shoes, with leather sneakers, mules and sandals all popular choices in the warmer months. Take a look at some of our top leather shoe styles.
Suede
Suede shoes are a fantastic choice for formal occasions. Suede's soft and smooth texture gives your look a premium feel which bodes well in the office or at dinner parties.
Canvas
Lightweight and breathable, canvas shoes are great for casual spring looks. Our canvas shoe styles include sandals and sneakers, with high-top and low-top options.
How to transition winter shoes to spring?
Changing your shoes is the easiest way to refresh looks for spring. While spring promises sunnier days, wind and rain can still make an appearance, so you'll occasionally need warm shoes. Light ankle boots make great transitional pieces and are perfect for spring, especially if you have lots of outdoor plans lined up. If you live in a sunnier state, choose ankle boots with cutouts or peep toes for more breathability.
Sneakers and canvas shoes are the perfect transition shoes, since they can be worn all year round. For spring, choose a pretty pastel pair like the Breeze Step II.
What outfits should I wear in Spring?
Spring fashion is always so much fun. Here are some killer outfit combos for this season:
Trench coat, bodycon maxi dress, and mules

Cargo jeans, sweater, and sneakers

Denim jacket, denim shorts, and sandals

Oversized blazer, midi dress, and loafer

Wide-leg pants, tank top, and flip-flops
Ready to step into spring? Find all the season's top styles at Clarks by shopping men's and women's shoes.