Your browser is out of date and will not be compatible with our website.
Please download one of the following browsers to be able to easily view our website.
Finding your perfect fit
Choose your size guide
We know correctly fitting shoes are important which is why we offer whole and half sizes and a range of widths for a perfect fit!
Wear your favourite footwear in the comfort and style that you would expect from Clarks by using our shoe fitting guide.
Womens Clarks shoe widths
Width

Description

C

Narrow Fit

D

Standard Fit

E

Wide Fit

EE

Extra Wide Fit
Mens Clarks shoe widths
Width

Description

G

Medium Fit

H

Wide Fit

XW

Extra Wide Fit
Kids & Babies Clarks shoe widths
Width

Description

E

Narrow Fit

F

Standard Fit

G

Wide Fit

H

Extra Wide Fit
How to measure your feet
Place your foot on a flat surface with your heel against a straight edge. Place a ruler beside your foot touching the straight edge your heel is also touching, then take the length from the tip of your longest toe to your heel. Please be aware that your longest toe may not always be your big toe.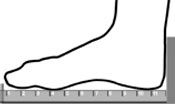 Ask the expert
Fitting advice from our shoe fitting & development team
Everybody's feet are individual, but our shoes are developed to fit as consistently as possible across a range of different styles. The styling, construction or materials can affect the fit.
For example, a shoe made from patent leather may feel tighter than the same style made from soft, suede leather. This could be due to the consistency of the material and how it moves with your foot. However, leather is a natural material and may stretch over time to adapt the shape of your foot.
When we measure feet in our shops, we measure the length of the foot as well as the circumference to indicate which shoe size the customer is.
We can't make a range of shoes to accommodate each individual variation of measurements, which is why we provide many styles in half sizes and different width fittings.
Our standard fit should fit most people - this is a D fit in our women's shoes and a G fit in our men's shoes. However, if your big toe joint/small toes begin to feel pinched or ache, then you may need to try a wider fit.
People with slim feet and a low instep/arch may benefit from the use of an insock or inner sole to help reduce the excess volume inside the shoe. This can be particularly beneficial for ladies wishing to wear shoes with no effective fastening such as a court shoe.
Styles which are low cut on the front, and do not cover your instep are a good place to start, like loafers.
If you prefer a style with more foot coverage, then try a style with some adjustability so you can loosen the lace/buckle. Pull on boots and mule type styles are likely to give issues with foot entry.
Try to select a style with a reasonably high cut and avoid styles with low waists such as low-slung ballerina styles and some court shoes as these will tend to gape.
Try adding a half insock, this will help to raise the foot slightly in the back of the shoe and raise it off the topline.
Wedges or platform shoes can offer the height of a heel but with less of an ache in the arch of the foot. The substance of the sole in the forepart means that the arch of the foot is cranked at much less of an angle and thus aches less.
Women with fuller calves should generally select wide leg boots with an 'E' fitting, as these have a wide leg.
Each whole size has a circumference that is approx. 10mm wider. On an 'E' fitting of the same size, it will be 50mm wider at the top of the leg, then 40mm wider at the lower leg blending in at the ankle.
---