Your browser is out of date and will not be compatible with our website.
Please download one of the following browsers to be able to easily view our website.
Blog: Styles & Stories
Combining inspiration from our past with a passion for the future, our aim is to create footwear that is both covetable and comfortable. Explore the Clarks blog page, where we talk about our shoes, our styles, and our stories. Offering How To Wear inspiration, styling advice, and more.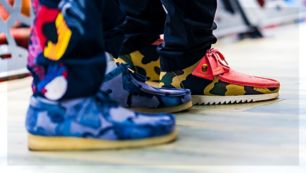 Mens
In My Shoes: DLT
Good food, good music and good vibes. They're the 3 golden rules of Days Like This Brunch. Anything and everything else goes, including 40,000 tickets sold in iconic cities across the globe. Inspired by New York daytime parties, DLT has changed the London party scene. Living it up when the sun comes up, events are hosted in the capital's hottest spots, showcasing a vibrant array of DJs, mixed with bottomless mimosas, prosecco and mocktails.